John Sweetenham, MD, FRCP, FACP
Professor of Medicine
Executive Medical Director
Senior Director for Clinical Affairs
Huntsman Cancer Institute
University of Utah
Salt Lake City, Utah

Dr. John Sweetenham attended medical school at St. Bartholomew's Hospital in London, and trained in oncology at the University of Southampton, UK, where he was subsequently a Senior Lecturer in Medical Oncology. He moved to the University of Colorado in 2000, joined the Cleveland Clinic Taussig Cancer Institute in 2005 as Vice Chairman for Clinical Research and Professor of Medicine at the Cleveland Clinic Lerner College of Medicine, and was Medical Director of the UCSD Nevada Cancer Institute from July 2012 until March 2013. Dr. Sweetenham is currently Professor of Medicine, Executive Medical Director, and Senior Director for Clinical Affairs at Huntsman Cancer Institute at the University of Utah.
Dr. Sweetenham is internationally renowned for his clinical research in malignant lymphomas and the use of stem cell transplantation and has authored more than 200 original articles, chapters, and books in this area of investigation. He has been principal investigator on national and international trials in lymphoma, and is a former core committee member of the Eastern Cooperative Oncology Group (ECOG) Lymphoma Committee and ECOG national principal investigator for studies in Hodgkin lymphoma. Dr. Sweetenham also serves as Chairman of the Clinical Trials Committee of Leukemia and Lymphoma Research, UK. In addition, he is on the editorial board of several journals, and was previously editor-in-chief of Hematological Oncology.  
Dr. Sweetenham has been listed in "Best Doctors in America" every year since 2003, Castle Connolly's "America's Top Doctors," and "America's Top Doctors for Cancer" every year since 2009, and has recently been acknowledged by "US News Top Doctors" and Angie's List for Healthcare.
Last modified: May 28, 2019
Authored Items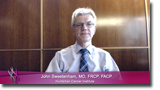 What is the role of brentuximab vedotin as first line salvage therapy prior to ASCT?
FAQ
published on
November 13, 2017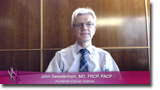 What are the current options for patients with HL who have relapsed after ASCT?
FAQ
published on
October 9, 2017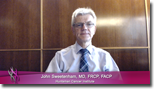 What are the risk factors that may predict post-ASCT outcomes?
FAQ
published on
September 11, 2017