Volker Diehl, MD
Director Emeritus
Internal Medicine
University of Cologne
Cologne, Germany

Dr. Volker Diehl is director emeritus for internal medicine at the University of Cologne, Germany. Amongst numerous positions, he was founder and chairman of the German Hodgkin Study Group (GHSG) for 30 years where he designed and established six generations of consecutive Hodgkin trials, and is now the honorary chairman. In addition, he was founding director of the National Cancer Center in Heidelberg, Germany.
Dr. Diehl's major scientific achievements include immortalization of umbilical cord blood cells to long-term lymphoblastoid cell lines (LCL); demonstration that Epstein-Barr virus (EBV) causes infectious mononucleosis; establishment of Hodgkin-Reed Sternberg cell lines in vitro; as well as the co- discovery of the CD30 antigen and co-development of associated monoclonal antibodies.
His clinical achievements include design and implementation of the BEACOPP principle for advanced Hodgkin lymphoma; establishment of the International Prognostic Index for advanced Hodgkin lymphoma; and he is co-founder of the European Task Force for Lymphocyte Predominant Hodgkin Lymphoma.
Last modified: November 26, 2018
Authored Items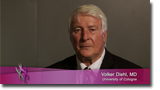 ECHELON and a GHSG lead trial with escalated BEACOPP